Design
"Design is thinking made visual." – Saul Bass
Your branding, marketing, and advertising work best when they come from a foundation of studied research and thought. Just using the latest free design apps will not get you effective long-term solutions.
Your communications need to truly reflect your culture and appeal to your target audience. The right design decisions can create branding which creates trust while standing apart from your competitors. I don't want you looking like every other financial institution in your market. You don't act like every other bank – your branding, marketing, and advertising shouldn't look like it. 
Your branding should look and act well in every format, size, and device. From in-branch collateral to digital ads, let's get your communications consistent and authentic.
Explore some completed projects below or shoot me an email and I'll send you a sneak peek into some of my current projects. Always fun to talk through the process! 
Annual Reports • Banner Stands • Brochures • Business Cards • Calendars • Direct Mail • Flyers • Folders • In-branch Posters • In-store Monitor Ads • Logos • Newsletters • Sales Sheets • Signs • Stationery • Rack Cards • T-Shirts • Tent Cards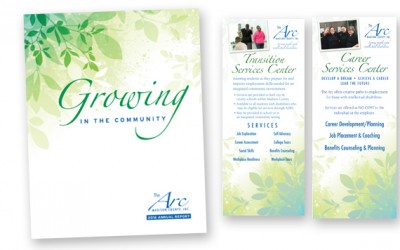 The Challenge: The Arc of Madison County has been supporting people with intellectual disabilities for more than 50 years. In that time, the various means of support have changed dramatically. And in just the past few years, research has shown the best way to support...