Print Design
This category really encompasses more than just designing for a piece that's printed on paper, such as brochures. Most marketing collateral is now seen in many different forms. That brochure might be printed, as well as posted on a website. Design and copy must be versatile while delivering your branding in the manner best suited for your specific audience.
Here at JB Communications Group, we take a look at your project from many different angles, including your branding, goals, and other research materials, in addition to many forms your message might take. Our design and copywriting process also includes several opportunities for the client to provide feedback and be involved as much or as little as you would like.
Need some ideas to help kickstart your project? Here are some case studies and a sample listing of the type of design projects we've completed:
Annual Reports • Banner Stands • Brochures • Business Cards • Calendars • Direct Mail • Flyers • Folders • In-branch Posters • In-store Monitor Ads • Logos • Newsletters • Sales Sheets • Signs • Stationery • Rack Cards • T-Shirts • Tent Cards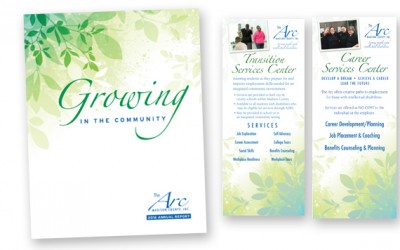 The Challenge: The Arc of Madison County has been supporting people with intellectual disabilities for more than 50 years. In that time, the various means of support have changed dramatically. And in just the past few years, research has shown the best way to support...