In listening to our readers and our clients, it's clear there's a whole group of people who may not have a design background, but need to create quality graphics. So we're launching a series to help those who aren't designers learn how to design, like a DIY Design Kit!
This may seem a little counter-intuitive coming from a business which provides graphic design services, but it's our belief that by increasing everyone's design vocabulary, communications as a whole will be better! Communicating with each other, with members, customers, even our peers can be improved by following basic design techniques. And we know not everyone has the resources to hire JB Communications Group, so if we can spread the joy of better communications, whether it's visual or vocal, we are happy to do it!
The content will be based on feedback we get from clicks as well as from conversations and will cover design principles, techniques, and tools. We'll start with articles, but look to add other types of content as well – videos, screen captures and whatever you think might be useful.
This practical information will be posted twice a month here on the website with notices going out through emails and social media. So if you want to get these tips straight to your inbox, just sign up for our emails today! And if you want to connect with others who want to learn design and marketing, connect with us using #nodesignernoproblem on Facebook, Twitter, and Instagram as well as with our accounts directly.
So let's get this party started and explore the essentials of graphic design!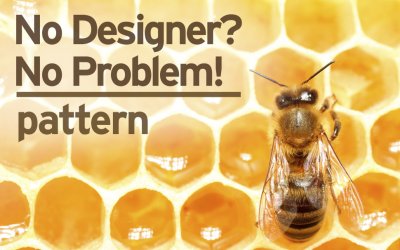 Looking to add some pizazz to your marketing and advertising materials? Learn how patterns can do just that while guiding your viewer to your message.